Little Jungle offers the option of ordering a healthy and daily varied hot meal for your child. Apart from being pleasant, it is also good for your child's taste development, because… 'eating together stimulates eating!' Together with an educational staff member joining in, the meal will be enjoyed to the full!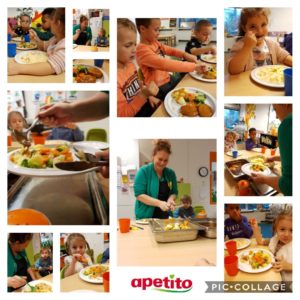 About the meals
We serves meals of Apetito, a supplier with 50 years of experience. The meals are characterised by:
No use of artificial colourings/flavourings/sweeteners
Restrained use of natural colourings
use of iodized salt only
Responsible use of sugar
Mild seasoning
Vegetarian or halal meals are also possible.
Yes, I'm interested!
Are you interested in these hot meals? Then there are two options:
Purchasing a separate meal of €4,85.
Purchasing a multiticket of €39,25 for 10 meals and valid indefinitely.
Incidentally, you will not receive an allowance from the tax authorities for the hot meal.

Will your child be at the table soon as well?
Contact us through telephone number 040 237 57 61 or using the contact form. We will reply soon!